Dollar neutrino or USDN, the algorithmic stablecoin of the Waves ecosystem, was de-pegged yesterday for the umpteenth time in 2022 and its value dropped below $1. This happened at the same time as the price of cryptocurrencies fell.
According to the report of Mihan Blockchain and quoted by Coin Telegraph, the fall in the price of Bitcoin and consequently the cryptocurrency market usually puts pressure on stablecoins to maintain their dollar value. This is more severe for algorithmic stablecoins that do not have fiat backing. Yesterday, at the same time as the market fell, the one-dollar peg of USDN stablecoin disappeared again and its value decreased to 90 cents.
This is the first time in 2022 that the value of this stablecoin will fall below $1. The first time was in April when the price USDN It decreased to 78 cents. At that time, Sasha Ivanov, CEO of the Waves project, attributed the drop to price manipulation by the Alameda Research Institute. In May (May) and June (July) we also saw the de-pegging of this stablecoin.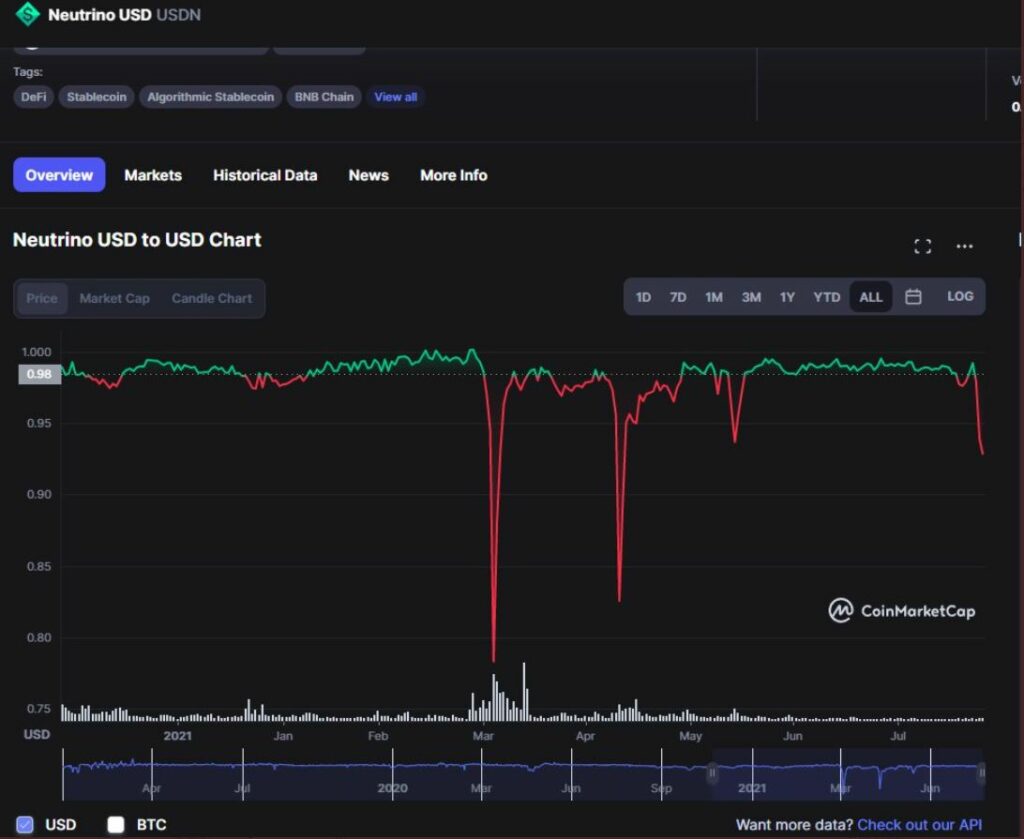 Meanwhile, in the month of May, we saw the fall of Terra and its algorithmic stable coin called UST, and after that, pessimism was created towards this category of stable coins. At the same time, the officials of the USDN project held a vote to fix the bugs of this stable coin, and finally it was decided that changes in the mechanism of its issuance Apply. Among these changes, we can point out the limitation of the amount of swap (in the process of minting or burning USDN), changing the ratios of the supports of this stablecoin and improving its distribution rewards.
Yesterday's drop happened while Sasha Ivanov, CEO of the Waves project, on Wednesday allocated $530 million to protect this stablecoin on lending platforms. USDN price has now recovered to 98 cents but has not yet reached its $1 value.
Can algorithmic stablecoins like USDN be trusted?
After the crash of Terra and UST stablecoin, the realities of algorithmic stablecoins became clear. Although the issuers of these stablecoins have tried to prevent the "death vortex" phenomenon by making changes such as creating a swap ceiling, these stablecoins still have weaker support than fiat-backed stablecoins such as Tether.
{"@context":"https://schema.org","@type":"FAQPage","mainEntity":[{"@type":"Question","name":"آیا به استیبل کوین‌های الگوریتمی مانند USDN می‌توان اعتماد کرد؟","acceptedAnswer":{"@type":"Answer","text":"پس از سقوط ترا و استیبل کوین UST واقعیت‌های موجود در استیبل کوین‌های الگوریتمی مشخص شدند. هرچند صادرکنندگان این استیبل کوین‌ها سعی کرده‌اند با ایجاد تغییراتی مانند ایجاد سقف سواپ، از پدیده «گرداب مرگ» جلوگیری کنند اما همچنان این استیبل کوین‌ها پشتوانه ضعیف‌تری نسبت به استیبل کوین‌های با پشتوانه فیات مانند تتر دارند."}}]}