Silvergate Bank, the most important bank in the crypto space that almost all centralized exchanges rely on for their operations, faced $8.1 billion in outflows and sold a huge amount of its assets at a loss to cope with the influx of institutional clients. But Silvergate has been able to resist this unprecedented capital outflow, and the managers of this bank seem optimistic about its future. But what is the role of this key bank in the crypto space and what is its current condition?
According to Mehen Blockchain and quoted by the Wall Street Journal, the collapse of the FTX exchange also involved one of the top banks in the crypto market and caused this bank to sell its assets at a significant loss in order to meet the $8.1 billion withdrawal by customers. be
In the preliminary report published on its performance in the fourth quarter of 2022, Silvergate Bank has announced that cryptocurrency deposits in the bank decreased by 68% during the fourth quarter of 2022. In this way, in order to meet the withdrawal of capital by its customers, Silvergate has liquidated the debt securities it had in its financial balance sheet. The loss of 718 million dollars from the sale of Silvergate's debt securities is much more than the total profit that the bank has earned since 2013.
Silvergate provides services to companies in crypto-related businesses. The bank helps institutional investors move their funds into and out of cryptocurrency trading platforms through the Silvergate exchange network. The Silvergate exchange network actually connects investors' bank accounts to exchanges.
FTX Exchange and other companies owned by Sam Benkman Fried, the founder of FTX Exchange, had a total of one billion in bank deposits. The collapse of the exchange in November created a lot of tension in the crypto market, causing Silvergate's share price to experience a sharp decline.
Silvergate's share price (symbol SI) fell 43% on Thursday alone, and has fallen 84% over the past three months. The value of Silvergate shares, which reached around $240 at the peak of the Bitcoin bull market in November 2021 (Aban 1400), is currently around $11, and this 95% fall is reminiscent of the most unsuccessful altcoins in the recent bear market.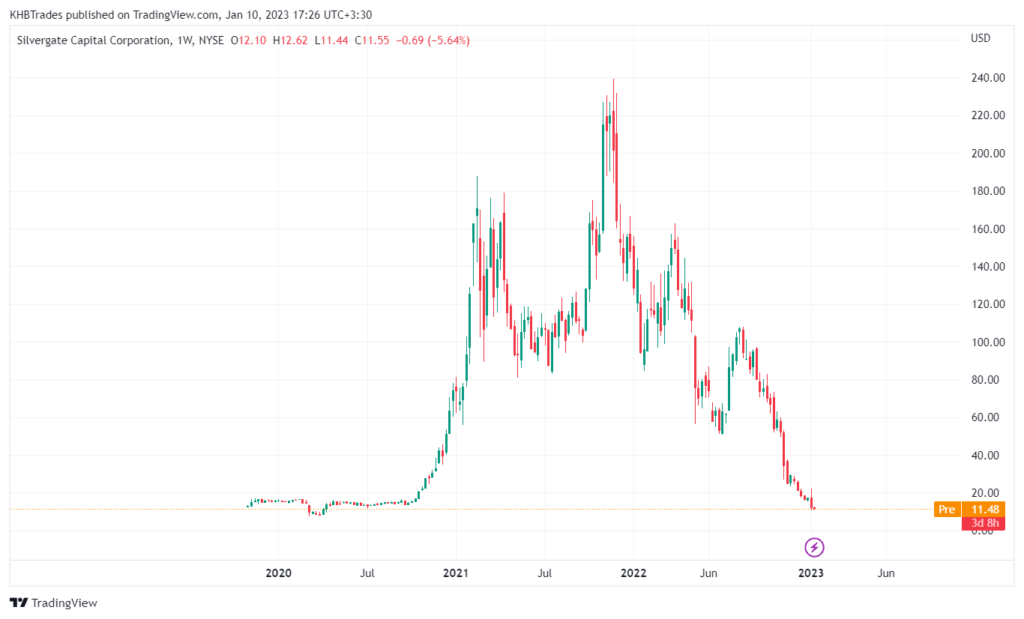 How did Silvergate survive this huge capital outflow?
Silvergate has been able to survive this sharp drop in deposits because its structure is not the same as most banks. Silvergate sold off many of its branches and traditional banking operations to stay focused on providing bank accounts to crypto exchanges and investors. Cryptocurrency-related deposits comprise approximately 90% of Silvergate's total deposits. Silvergate holds almost all of its deposits in cash or readily marketable securities.
Silvergate said it had $4.6 billion in cash at the end of the fourth quarter of last year, while the bank's other balances stood at $3.8 billion. This bank also has 5.6 billion dollars in the form of debt securities such as US Treasury bonds, which can be easily sold. According to Silvergate, the average daily transaction volume of the Silvergate network has increased in the fourth quarter.
However, these figures are highly unusual even compared to The Great Recession. according to research As the Federal Reserve did in 1938, banks that closed between 1930 and 1933 experienced an average decline of almost 38% in their deposits. Only 9 banks among the 67 banks included in this research had experienced more than 50% decrease in deposits.
According to an article by Jonathan D. Rose (Jonathan D. Rose) Banks that closed during the economic crisis of 2008 and 2009 also faced a monthly decrease of 10% to 20% in their deposits.
What are Silvergate's plans for the future?
Silvergate has said that the bank remains committed to the crypto space and has sufficient funding to manage the transition period.
The executives of Silvergate have said that the recent withdrawals were due to uncertainty in the crypto arena, which was caused by the collapse of the FTX exchange. Silvergate's deposits decreased to $3.5 billion in the fourth quarter and reached $3.8 billion again at the end of this quarter.
Executive directors of Silvergate have said while talking to analysts that customers have not closed their accounts, but have informed the bank that they have withdrawn their capital from the cryptocurrency field, so they do not need to keep their capital in Silvergate. Even clients focused on cryptocurrencies have withdrawn their funds to invest in much safer assets such as Treasuries.
Alan Lane, Chief Executive Officer of Silvergate said:
Our clients have been away from crypto for a long time.
Silvergate Bank has received loans against its assets in order to provide the cash needed to meet customer withdrawals, but with the increase in interest rates, Silvergate has faced problems and inconsistencies. In this situation, Silvergate has been forced to pay more interest on its loans than it earns from its securities. Thus, Silvergate has been forced to sell its securities, even those that it already had and intended to keep.
Silvergate intends to reduce its business activities in order to overcome these difficult conditions. The bank has laid off 40% of its employees and plans to launch its cryptocurrency. Silvergate has also waived the $196 million it spent to buy Facebook's failed technology to launch a crypto-based payment network.
Effect of FTX decay on silvergate
Silvergate has also been heavily investigated regarding its connection with the FTX exchange and the crypto trading company owned by Bankman Farid called Alameda Research LLC. The collapse of FTX occurred in November after Alameda was found to have used funds from customers of the FTX exchange to finance risky actions.
Farid Bankman was blamed for using clients' capital in old systems and failing to manage risk. Bankman Farid said in the early days that the FTX exchange did not have any bank accounts and the customers who wanted to make transactions in this exchange transferred their funds to the Alameda bank accounts. It seems that some of these funds have been transferred to an account in Silvergate Bank.
Silvergate said it is investigating transactions between FTX and Alameda. Also, he did not know that the capital entering Alameda was supposed to enter the FTX exchange.
The collapse of the crypto space has raised concerns about the validity and soundness of Silvergate Bank's business model. A group of federal regulators had warned the bank earlier this week about over-presence in the market.