Vasil Cardano's hard fork is undergoing its final technical stages. According to the latest news of developments in this field, about 58% of SPOs have migrated to version 1.35.3 of the Cardano node software, and Binance exchange has also upgraded its nodes and wallet to the new version.
According to Mihan Blockchain, the Cardano network's hard fork Vasil is scheduled to take place in September. The technical preparation of this event includes the following 3 basic conditions:
1- 75% of the blocks created in the mainnet in a time epoch, by the final candidate of version 90 Vasil (Version 1.35.3) has been created. This requirement is roughly equivalent to the assumption that 75% of Depository Pool Operators (SPOs) use version 1.35.3. It should be noted that each epoch lasts approximately 5 days in Cardano.
2- Important decentralized applications of the main network confirm that they have been updated to version 1.35.3.
3- About 80% of Cardano network liquidity upgrade their wallets to the new chain.
As it was said, the final candidate of the Cardano node software version 1.35.3 has been selected. Currently, according to the information on the "Network Health" page PoolTool, approximately 58% of mainnet nodes are running version 1.35.3 in the current epoch. Another 17% of SPOs must join this group to fulfill the first condition.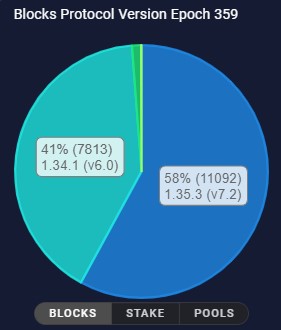 Regarding the second condition, 4 out of 10 Cardano decentralized applications (in terms of TVL) have announced that they have been updated to version 1.35.3.
Binance is ready to upgrade Wasil
Binance exchange, as one of the most important storage places for Cardano liquidity, updated its nodes to the new version and is now ready to run Vasil. As it was said, 80% of the liquidity available in the exchanges should do this update, and now with the update of Binance, it can be estimated that the update of 2 of the 4 major crypto exchanges (non-Binance) is needed.
The news of the update of the Binance exchange was announced 3 days ago by the Input Output page (Cardano development team).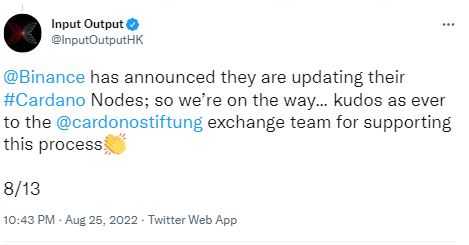 Charles Hoskinson, the creator of Claredano, has stated in his last comment that Hardfork Wasil It will probably be done in September, but the exact time depends on the preparation of the network components, which we explained in the previous section.
When are Cardano SPOs ready to do Vasyl's hardfork?
If we want to speak precisely and not roughly, in order to fulfill the first condition of the 3 main conditions of Vasil, 75% of the blocks must be created by Cardano node version 1.35.3 protocol during a time epoch (approximately 5 days). be