Today, at the same time as the price of Bitcoin reached 23,000 dollars and the peak price of Tether (USDT) reached 44,400 Tomans, the price of Bitcoin in Iranian exchanges reached more than 1 billion Tomans.
According to Mihan Blockchain, Stable Coin Tether (USDT), which has a value equal to 1 US dollar, reached a new price record against Rial today. The price of Tether reached 44,400 Tomans in Iranian exchanges. On the other hand, the price of Bitcoin advanced to $23,000 today. The simultaneity of these 2 events caused the Rial price of Bitcoin to increase to more than 1 billion Tomans in Iranian exchanges.
It is interesting to know that the price of Bitcoin in Iranian exchanges was traded around 588 million Tomans on November 9 (November 18), when the dollar price of Bitcoin was at the level of $15,500. Therefore, it can be said The price of Rial BTC has grown by about 70% in less than 3 months.
Daily chart of Bitcoin Rial changes in the exchange Nobitex It can be seen in the figure below.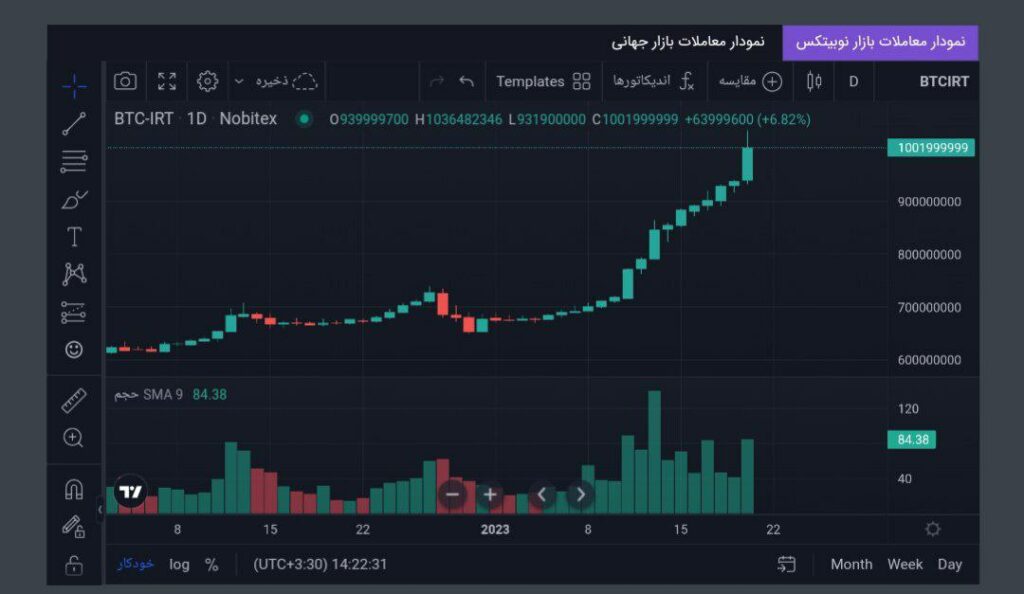 But it might be interesting to know that with the current rate of the dollar value, when Bitcoin reaches what price will we witness the historical ceiling of the BTC price? If we consider the price of Tether to be fixed at the current rate (44,400 Tomans), With the price of Bitcoin reaching 45,000 dollars, we will witness its highest Rial price in history. So far, the highest BTC price was on November 11, 2021 (November 20, 1400), which recorded a record of nearly 2 billion Tomans. At that time, the price of Tether was around 29,000 Tomans.
To see the best price for buying and selling Tether, you can use the "Comparison of buying and selling prices of digital currencies in exchanges" service.
How long do you think the process of increasing the value of Tether and Bitcoin will continue? Share your opinion with us under this post.