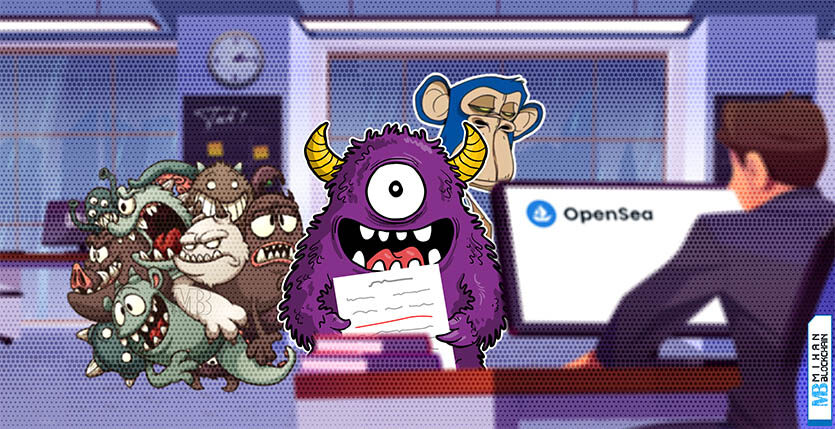 NFT market OpenSea, the largest non-fungible token (NFT) market, has announced that it will no longer support proof-of-work forks to be created from the Ethereum network, such as the ETHPoW network, following an update to the Ethereum blockchain.
According to Mihan Blockchain and quoted by The Block, the NFT market is open three in one Tweet thread On August 31 (9 Shahrivar) he announced:
First and foremost we want to emphasize that we are committed to only supporting NFTs on the Ethereum Proof of Stake network.
The importance of this issue of OpenSea goes back to one of the issues related to the Ethereum fork. If Ethereum Proof-of-Work supporters, for example the ETHPoW team, form a fork of the Ethereum network after the update; For all assets that are on the platform of the Ethereum network, from ETH itself and ERC-20 tokens to stablecoins and NFTs, a duplicate version will be formed in the forked network.
This issue is not a serious problem for Ethereum itself and ERC-20 tokens, because their copy can be considered as a shetcoin among other shetcoins. But for stablecoins and authentic NFTs, the story is different.
Stablecoins depend on assets outside the Ethereum network. Also, for NFTs, rarity and limited supply and fighting against copies are of critical importance. Therefore, the suppliers of this category of assets are obliged to determine their duty with copies of their assets in fork networks quickly. In this way, it can be understood that Jera Tether and Circle were the first companies that supported Ethereum Proof of Work and emphasized that the copy version that will be formed from USDT and USDC in the Ethereum Proof of Work network is not approved by them and is not supported by them.
In addition, the formation of a fork network for all assets in the Ethereum main network brings risks, one of the most important of which is the risk of replay attacks.
Now with OpenC's firm support of the Ethereum mainnet, holders of valuable NFTs on the Ethereum network are becoming a little more cautious; Because they know that the largest and most reliable NFT market will not recognize their copy of the asset. Of course, this decision of OpenSea seems quite logical considering the share of Ethereum main network from NFT transactions in OpenSea. To date, around $31 billion of Ethereum-related NFTs have been traded on this platform, dwarfing the volume of NFTs traded on other blockchains in total.