as you know, airdropThere are different types. Today, platforms for giving users their own tokens Airdrop first of all, they request more complex tasks, and secondly, if they are a layer 1 network, they usually demand activity in their ecosystem. In this article, we introduce one of the protocols of the Aptos ecosystem, which you need to install a special wallet for this network and then do various things in the testnet of this protocol. In this issue of the series of articles Introducing AirdropWe introduce the Pontem Network campaign and teach the steps of doing the tasks. Of course, it should be noted that this platform has not officially announced that it is going to airdrop its token, but it is not bad to do these things so that if Pontem airdrops its token, you will also receive it. Stay with the country of blockchain.
Introducing Pontem Network airdrop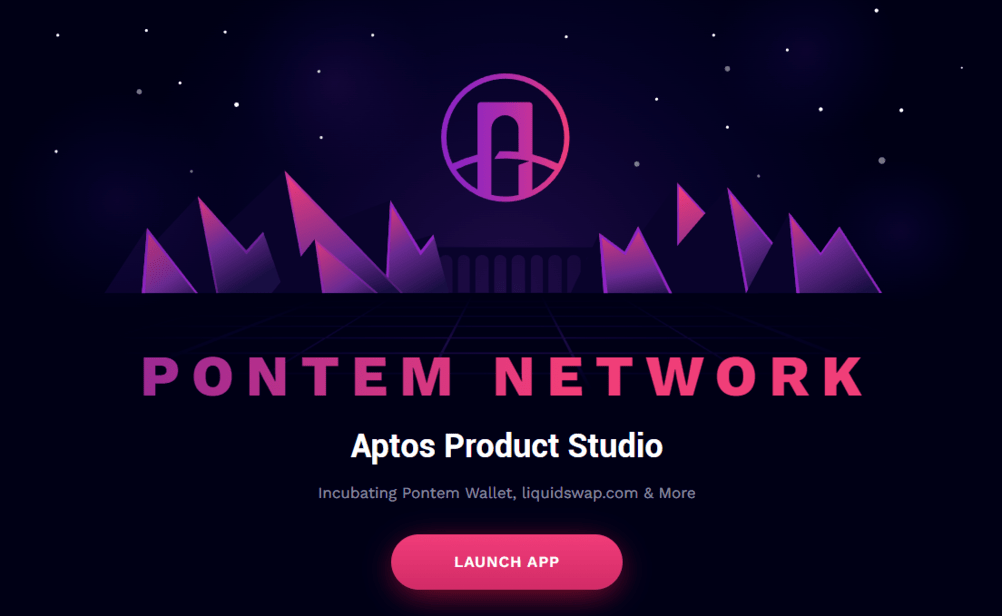 Pontem Network is a product development studio that aims to transform the global economy, powered by blockchains. This project with network Aptos collaborates, to build foundational decentralized applications (Dapps) and other infrastructure including development tools, EVM-compatible projects, automated market makers (AMMs), etc. Like Optos, Pontem is written in the Move programming language.
The Aptos network team has been working on the Move language for about 4 years, and this programming language was developed in direct collaboration with the developers of Meta (formerly Facebook) and Diem (or Libra, the Facebook blockchain project that the SEC did not allow to continue). Despite the advanced features that the Move language gives to modern blockchains like Optos, the network has been able to create its first product development studio, Pontem, with three main goals:
Development of protocols
Advanced tools for developers
Infrastructure development
Pontem protocol features
This protocol provides facilities for the development of different platforms, which we will introduce below.
Application protocols
Pontem is building the next generation of dApps, powered by the Optus network and the Move programming language. This can lead to greater acceptance by customers and organizations (we explain some of the benefits of this programming language below). The platform's first product is also a decentralized exchange called LiquidSwap, which is an automated market maker for stable and unstable currency pairs. This AMM provides liquidity and price discovery for tokens in the Optos ecosystem.
Development tools
Learning a new programming language to build blockchain applications is difficult; But Pontem believes that in the future, the Move language will find mainstream acceptance. All development tools are free (no more information is provided about these tools).
Infrastructure
Pontem is now a fork of the Move virtual machine, which can be deployed on other modern networks such as Polkadat, Cosmes, Avalanche, etc. The purpose of this protocol is to spread the Move language among different networks and DEPs. Pontem is also researching to develop EVM platforms that are compatible with the Move virtual machine and connect the two technologies together. This work is also done with the aim of creating more security for the platforms; Because the projects use two virtual machines instead of one, and their interoperability is also provided.
My wallet
You can find the special Pontem wallet at Google Chrome Store Find and its latest version also in GitHub There is. Try using the GitHub version of Pontem Wallet; Because the latest changes have been applied in this version and the bugs have been fixed.
Move programming language
Now that the Optos project is making a lot of noise, many developers are interested in the Move language. This programming language is built on Rust (Solana programming language). The reason for this interest is the high security and new uses that this programming language can bring to the crypto (and non-crypto) world. According to the claim of Aptos Network, this programming language is the most secure language of smart contracts and after Solidity, it can be considered as a standard for this type of languages. In fact, this language was developed by the Optos team (a team of people who worked on the Diem project).
This language has the following features:
Access control: Any personalized asset, such as tokens, can be considered a type of resource. This provides security and controlled access. It is possible to protect the ownership of information and privileges related to digital assets inside smart contracts. If an asset is sent to a smart contract, its ownership will not change; For example, if a hacker gets access to a Move smart contract, they will not be able to withdraw the assets inside it to their wallet, unless this feature is a feature of that smart contract.
Atomic resource architecture: It prevents developers from making fundamental mistakes that are common in smart contract development; Errors such as Reentrance Errors or Double Spending. In the Move language, resources can never be copied or deleted, and can only be moved between storage spaces.
Modules: They are similar to smart contracts, but more like banks that use object-oriented programming. Each resource or object is stored in an independent fund and is controlled and managed by its owner's account. Resource performance is limited by functions defined in a particular module. Developers can deploy new modules on the network.
Scripts: Each transaction in the network can contain a script that calls several different modules or performs several actions. Developers can use a single transaction to implement different actions, which reduces the number of smart contracts needed to perform these actions. The result is safer applications, better user experience and more flexibility.
Validator of bytecodes: Verifier is an integral part of the Move language, which checks for security before releasing new modules and scripts. Once they are approved, the Bytecode module (the module that converts new scripts and modules to ByteCode) executes the codes. This possibility reduces the number of runtime errors. A runtime error usually occurs during the execution of programs and makes you unable to use the program properly.
Official confirmation: Modules automatically receive official approval before being deployed on the network.
Gas system: Just like the gas usage system in Solidity, users can set the gas price for their transactions.
What is Aptos?

Optos is a layer 1 blockchain that allows developers to build their own smart contracts using the Move language and is capable of processing up to 160,000 transactions per second. Aptos aims to become the most secure and production-ready layer 1 blockchain. The team of this network is composed of designers, researchers and creators of the Diem project (former Facebook or Meta blockchain project, which was canceled for legal reasons).
The main components of Aptos are the AptosBFT consensus algorithm and the Move language. As we mentioned earlier, this language is built on top of Rust, and major changes have been made to the Solana programming language, which prevents developers from making unintended mistakes and creating critical vulnerabilities. you can Move language white paper Read and get to know it completely. You can also get Roadmap or Pontem Roadmap from This link view
Features of the Pontem platform
LiquidSwap
This decentralized exchange is Pontem's first product and is built on the Optos blockchain. This DEX uses Bonding Curves to exchange stable and unstable currency pairs.
Pontem wallet
Volt Pontum is your gateway to the Optos ecosystem. You can send and receive tokens and connect to dApps with this wallet.
Information about airdrop pontem
This protocol attracted 4.5 million dollars from big investors including Optos Labs, Mechanism Capital, Kenetic, Alameda Research, Digital Logo, Animoka Brands, Genesis Block Ventures, Delphi Ventures, Morningstar Ventures, Altonomy, CMS Holdings, etc.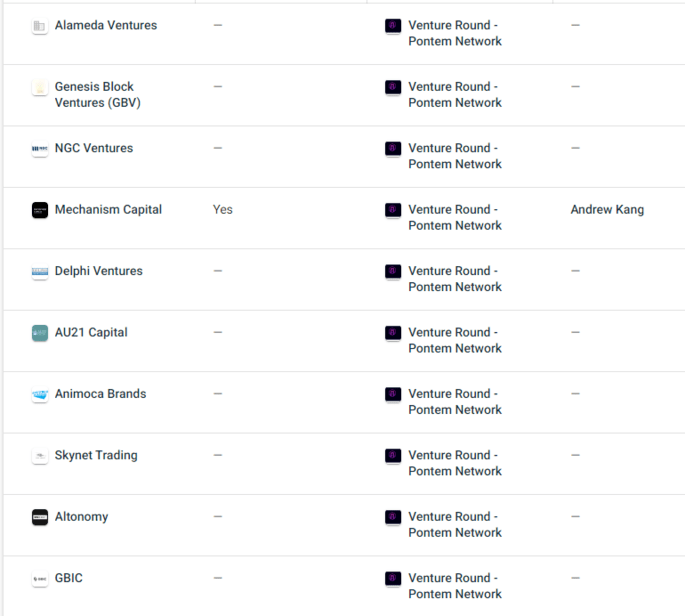 Pontem's test net was introduced on July 31 (9 August 1401) and it has not been officially announced that it is going to distribute airdrop; But anyway, this possibility also exists. Therefore, it is not bad to spend 10 minutes of our time testing this protocol.
How to participate in Pontem airdrop?
First step: download and install Pontem wallet
First, we need the Pontem wallet This link let's download Click on chrome-pontem-v1.3.0.zip.

After downloading, open the Extensions section of your browser and drag & drop the zipped file to this section to install this wallet. You can do this with all browsers.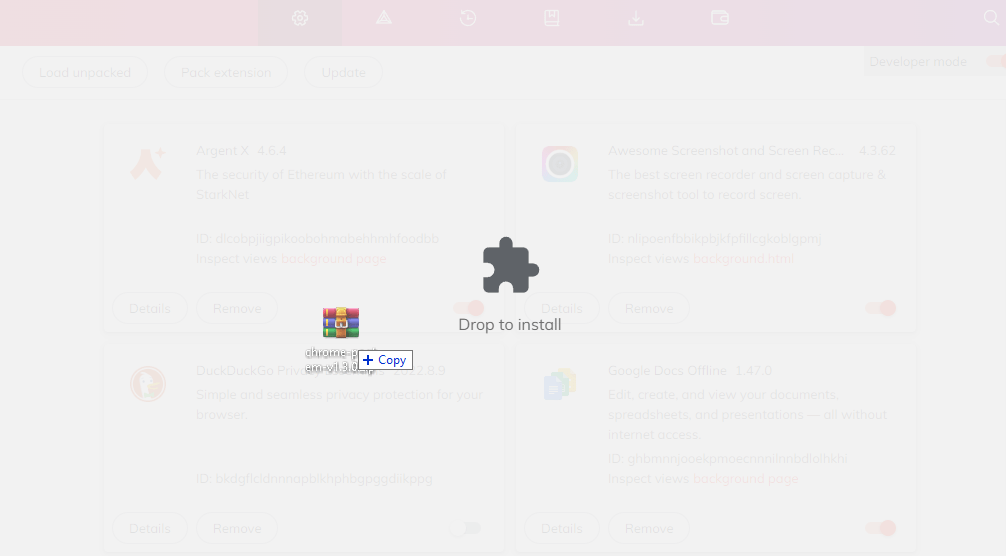 Now, in the Extensions section of the browser, we see Pontum Volt. The construction of this wallet is just like all wallets. After installing this extension and creating a wallet, write down your recovery phrases and choose a password.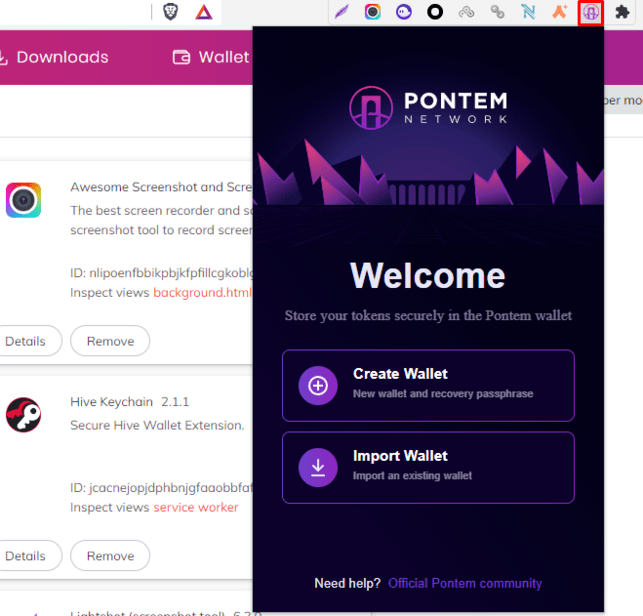 Step 2: Receive a test coin
You should now request Aptos test coins from within the Pontem wallet. Follow the picture below. You can receive test coins as many times as you want.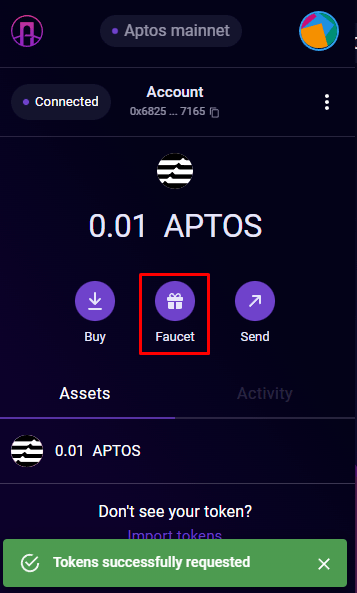 The third step: Swap
Now that we have received the test coins, enter the platform LiquidSwap we will be. Then click on Connect Wallet.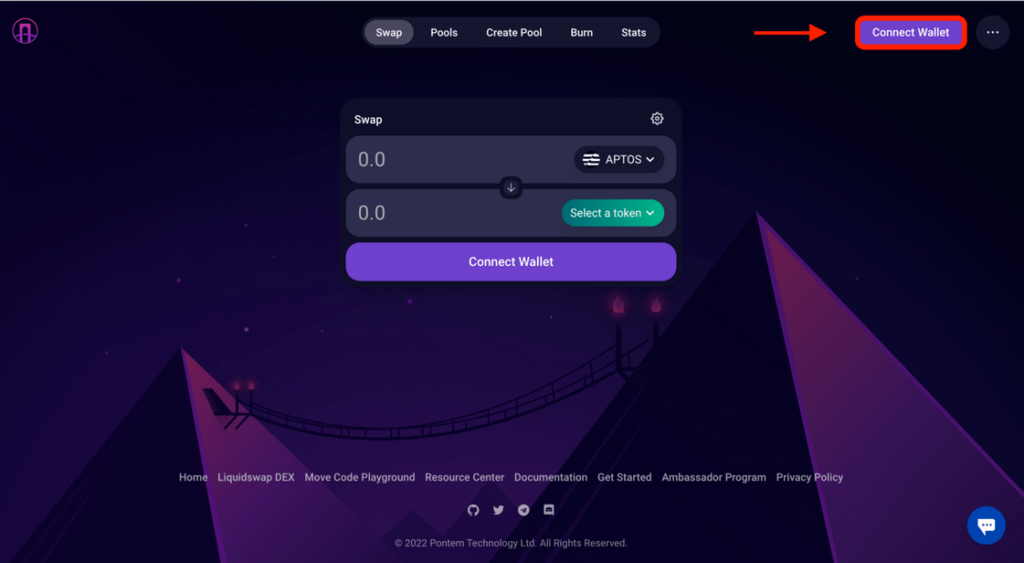 Now click on Request Tokens and then click on Request BTC and Request USDT. You can request these two tokens every 12 hours.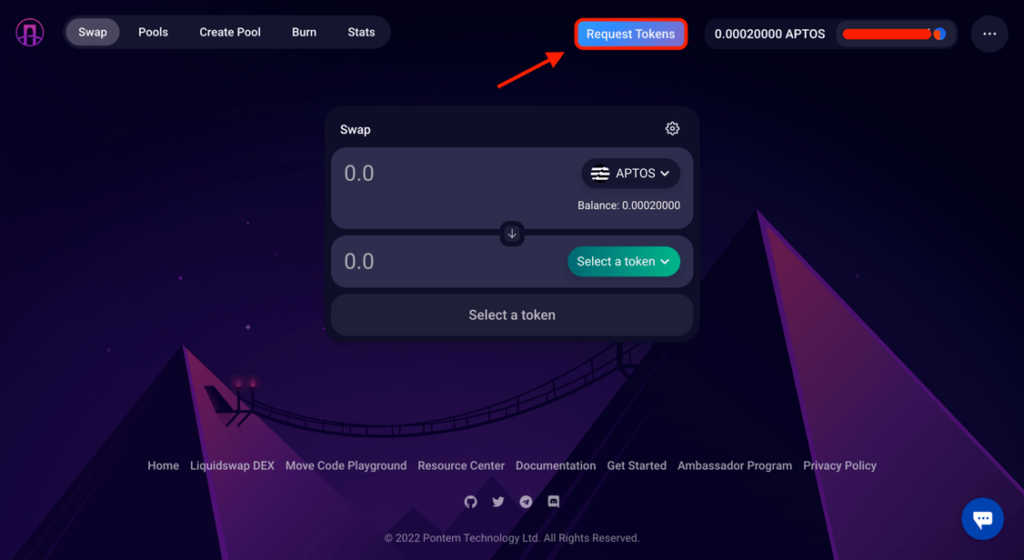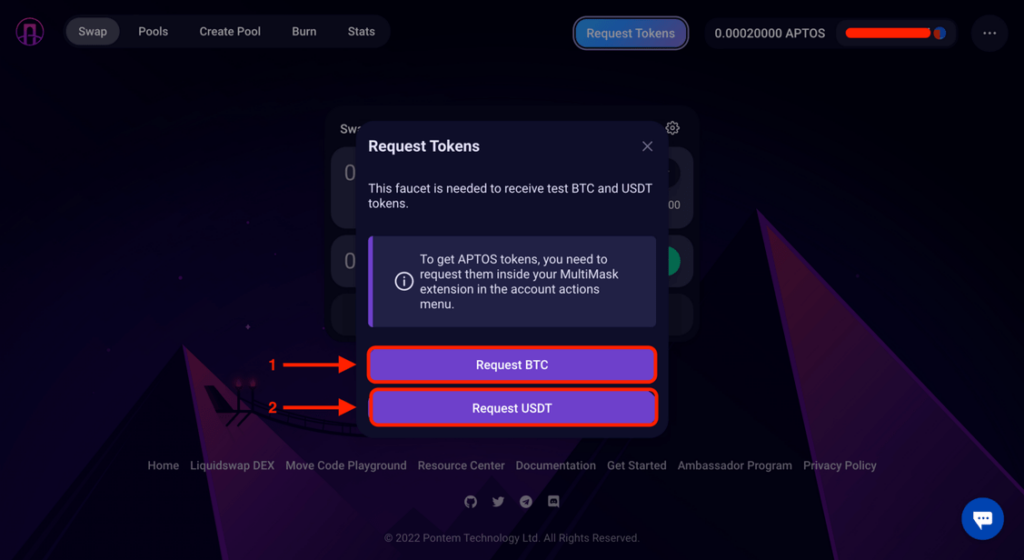 Now you need to swap these two cryptocurrencies with each other. It is recommended to repeat the swap at least 5 times.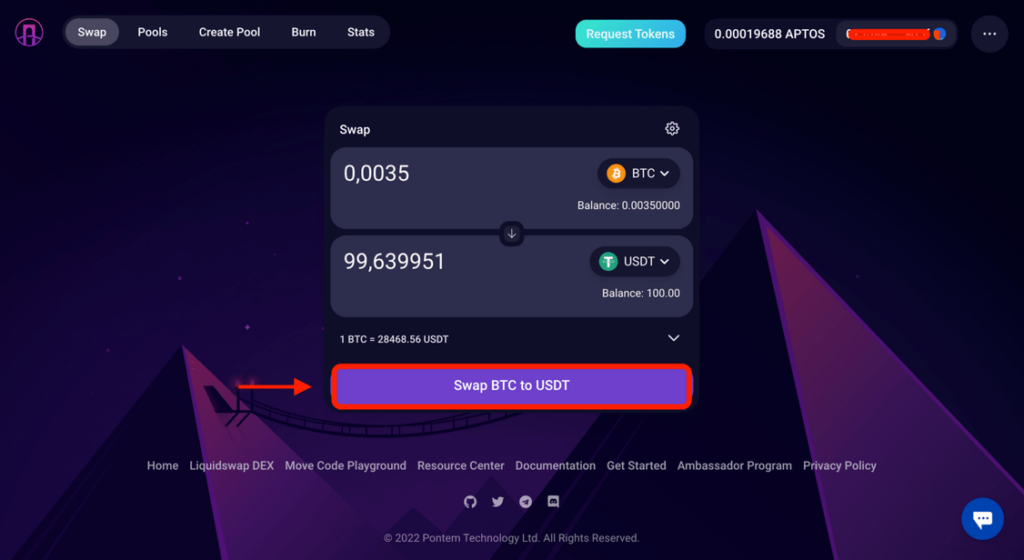 The fourth step: providing liquidity
Go to the Pools section, select the amount of tokens and click Add Liquidity.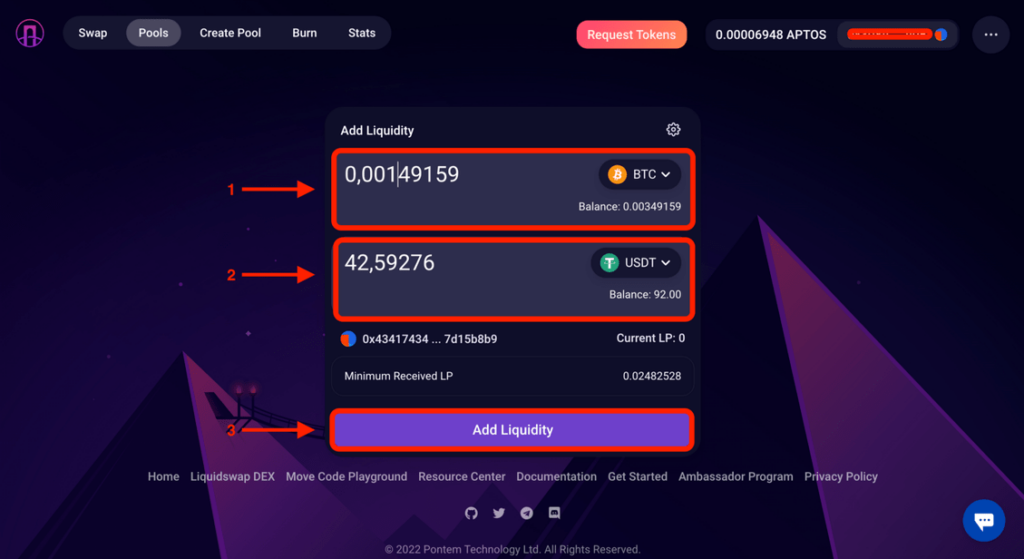 Fifth step: Construction of the pool
Go to the Create Pool section. Select values ​​and click Install Module.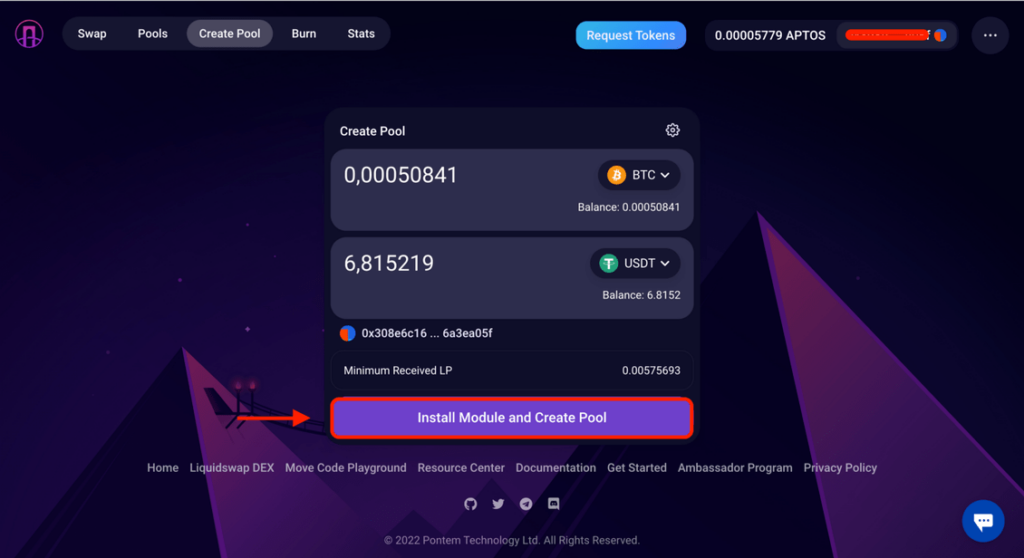 You will be prompted to install the corresponding module. Click Next.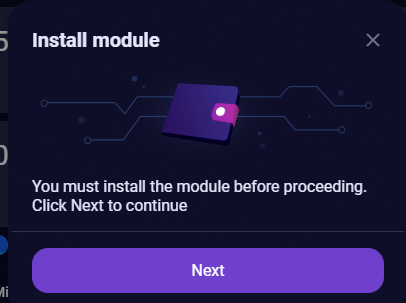 On this page, click on Send Transaction and confirm the transaction.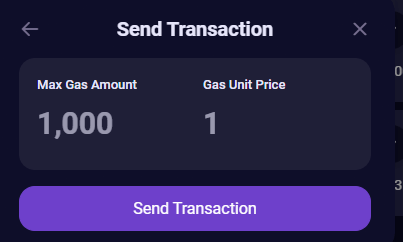 Now you can build your pool. Click on Confirm and confirm the transaction.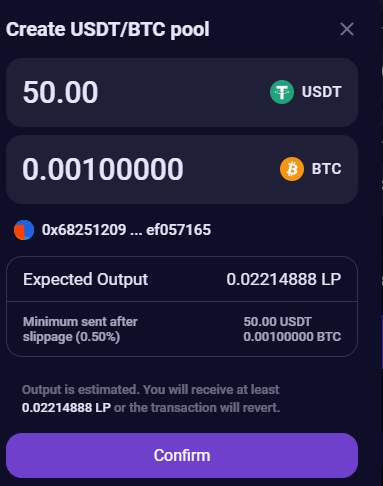 Is it possible to receive Pontem airdrop for Iranian users?
Yes. You can also participate in this campaign; But as always, we recommend logging in with a VPN. Pontem Network has not officially announced that it will have Airdrop; But you can take 10 minutes to test this platform and if it distributes your token, you will also receive it.
Conclusion
The look and feel of airdrops was much simpler in years past and you could qualify for an airdrop just by doing a swap or something like that. But since 2021, when many users started working in DeFi and in the entire crypto ecosystem, the system of airdrops became more complicated. Now to receive Airdrop from different networks and protocols, you have to do more and more complicated things. In this article to Introducing Airdrop We covered Pontem Network, which is one of Aptos' main layer 1 network projects. What do you think about Testnet airdrops? Share your experiences with us.