One of the famous crypto traders and analysts has warned that if the important support level of Bitcoin is lost, there is a possibility of a drop of more than 30% in the price of this cryptocurrency.
According to Mihan Blockchain and quoted by Dailyhodl, the crypto analyst with the nickname Capo twitter It has been written that if the downward trend continues, there is a possibility of a decrease in the price of Bitcoin to $16,000 to $14,000, which represents a decrease of 21% to 31%.
Although Capo has warned that the price of Bitcoin may rise to $23,000, if the price of the largest cryptocurrency in the market decreases to the above price level, we may also see the bottom of the price of Bitcoin.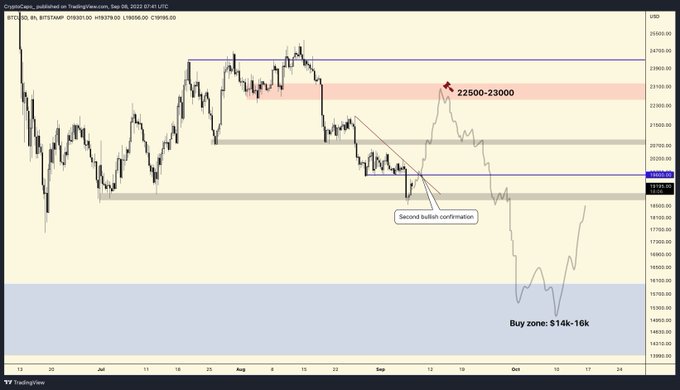 Capo said:
The current support level is $21,000. If this price level is crossed, the next support level is $19,000. If it crosses $19,000, the price target will probably be between $14,000 and $16,000. Of course, the price of Bitcoin may still reach $23,000, but I am not so optimistic about it.
Amid Bitcoin's nearly 10% drop from its August peak, Capo said the crypto market's flagship may reach a resistance level of $22,500-23,000.
Kapo said in this regard:
BTC price failed to break the resistance level of $22,500-23,000 and is currently at the support level. We may see an increase in the price and the formation of a higher price ceiling at $23,000, but this condition is still bearish. Every price increase is a selling opportunity.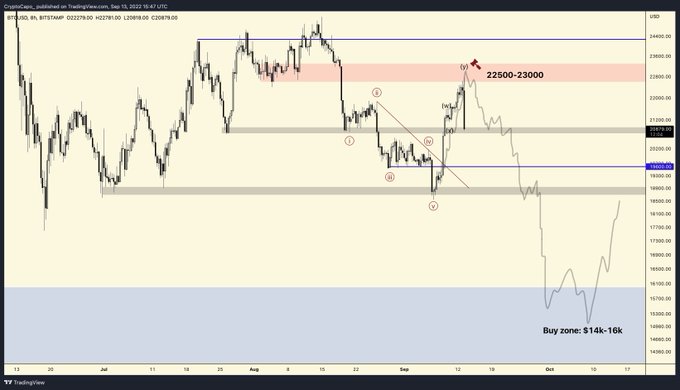 This article is only a translation of the source news and is not a recommendation to buy, sell or invest in the cryptocurrency market.
What are the proposed price targets for Bitcoin?
According to cryptocurrency market analyst Capo, the price of Bitcoin can grow up to $23,000 in a bullish scenario. But his opinion is more of a bearish scenario and considers the $19,000 support to be the key support for Bitcoin. He stated that if this level is lost, the price of BTC can decrease to the range between $14,000 and $16,000.