Over the past few months, various stablecoins have succumbed to market volatility and lost their $1 value. However, Binance's BUSD stablecoin managed to maintain its $1 price peg despite the market pressure. However, the distribution of the BUSD stablecoin supply has raised eyebrows among decentralization advocates.
According to Mihan Blockchain and quoted by Bin Crypto, a few days ago, Binance, the largest exchange in the market in terms of trading volume, announced the automatic conversion of USDC and other stablecoins to BUSD. The news that caused a lot of reaction in the space of digital currencies.
On the one hand, this decision of Binance can lead to more dominance of BUSD on the stablecoin market, but on the other hand, it will bring strong criticism among market participants.
But amid fears of centralization of stablecoins, can Binance cement BUSD's position among other competitors?
Binance Monopoly game
Stablecoins are an important part of the cryptocurrency ecosystem, mainly due to their ability to provide a safe haven for traders and investors during times of high volatility.
A variety of stablecoins help larger ecosystems maintain their decentralized nature. However, the recent decisions of the Binance exchange to strengthen the position of the BUSD stablecoin among the competitors have brought a lot of skepticism.
Following Binance's decision to automatically convert competitors' stablecoins to BUSD, Indian exchange WazirX also announced that it will remove major stablecoins such as Tether, USDP, and TUSD and convert it to BUSD.
At the time of writing, BUSD is the third largest stablecoin by market capitalization. In this ranking, Tether and USDC are ranked first and second.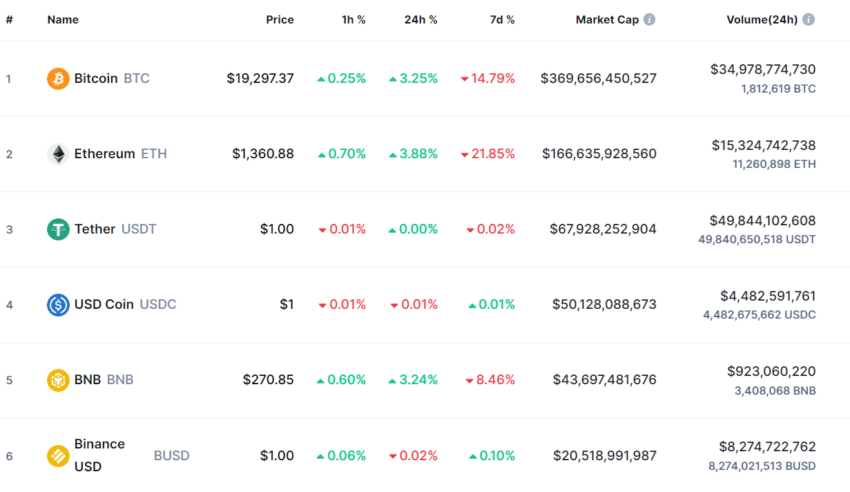 The automatic conversion of stablecoins to BUSD caused the trading volume of this currency to increase by 70% on September 6.
In fact, by eliminating rival stablecoins such as Tether and USDC, Binance paves the way for more use of its native stablecoin. However, there are concerns regarding the lack of decentralization of this stablecoin.
BUSD more concentrated than other competitors
While in general, the idea of ​​BUSD's increasing market dominance may seem somewhat plausible, such data paints a completely different picture of this stablecoin.
Based on data Into The Block, the way the BUSD stablecoin is distributed is highly centralized, with around 94% of the total supply controlled by just 4 addresses. As shown in the table below, about 19.31 billion BUSD units, (93.46% of supply) are held in 4 wallets.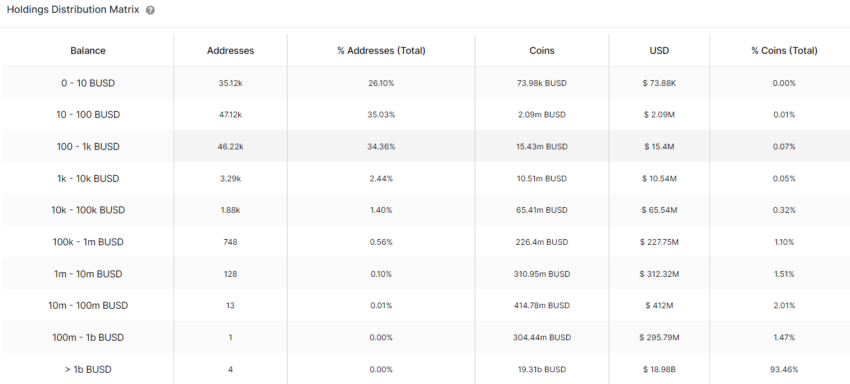 Asset distribution matrix indicator shows how assets are distributed in different groups of addresses. According to this indicator, for stablecoins USDC and Tether, only 14.74% and 16.09% of addresses have more than one billion tokens, which is a very low figure compared to BUSD.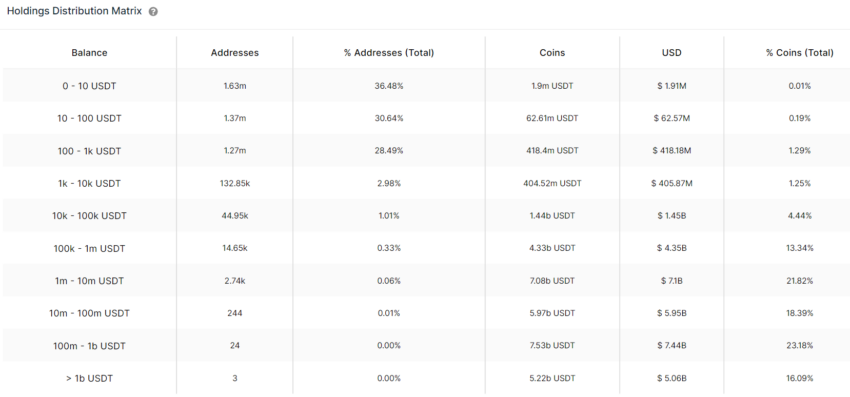 Centralized stablecoins have become a hot topic in the cryptocurrency ecosystem. Binance plans to increase BUSD's dominance in the market by any means, and it remains to be seen how it will deal with decentralization concerns.